Kwartelenmarkt
Schinkemenke – Jac van Rhijn
On the fountain at Kwartelenmarkt, high up on a pedestal, one can find the Schinkemenke (schink is the word from Venlo for ham). It is a replica dating from 1953 of an original, centuries-old statue that stood on the fountain made in 1617 on the Markt in front of Venlo's town hall. The designer of that fountain in Italian Renaissance style was the Venlo humanist Erycius Puteanus, the fountain's creator sculptor Gregorius Schissler. The fountain was demolished at the end of the 18th century, but the statue was preserved and stood in a niche in the town hall for a long time. Today, it is part of the collection of the Limburg Museum.
The statue on the Kwartelenmarkt, carved from Namur stone, is a harnessed city guard. On his shield is the coat of arms of Venlo. Because it was not entirely clear what was on the shield in the original statue, the people of Venlo thought it was a ham (schink), hence the name. The statue stands on a waterspouting turtle.
Various stories circulate on the Schinkemenke and its name. The most common one is that the statue is a reminder of a famine in Venlo in the fifteenth century. Farmers from Neer brought hams and also bread and grain to the city. As a thanks, they made a statue that was given the name Schinkemenke.
The artist: Jac van Rhijn
Jac van Rhijn (1921) is a Venlo sculptor whose work can be characterised as expressionistic work. Besides the Schinkemenke and the statue of Saint George in a niche in the Venlo St. Joris church (Gasthuisstraat), sculptures by him can be found in 's-Hertogenbosch (Harps player, 1953), Tilburg (relief head office Volt, 1959), Zwolle (relief Thomas a Kempis Lyceum, 1960), The Hague (relief Loevesteinlaan, 1954) and Sint-Oedenrode (liberation monument, 1950).
De Kwartelenmarkt
The name says it all: in the late Middle Ages and even later at the location where the Kwartelenmarkt is nowadays markets where quails (kwartels) were traded were regularly held. The monumental Romer House, an eye-catcher of the square and once owned by the patrician Romer family, was built in 1490. In the first half of the 19th century, there was also a mill that used to grind grain, pepper and other spices.
The Kwartelenmarkt in its present form and with its present name came into being after the Second World War. Before that it was a small, open place without a name, situated between Jodenstraat and Grote Beekstraat. After the Second World War the area, which had been almost completely destroyed by bombing at the end of 1944, was redeveloped. The Kwartelenmarkt became a real square with a few restaurants and bars. Until the 1970s, people parked on the square. Nowadays, it is a square with bars and restaurants, just like the Oude Markt and Markt, where you can find terraces from early spring up until to late autumn.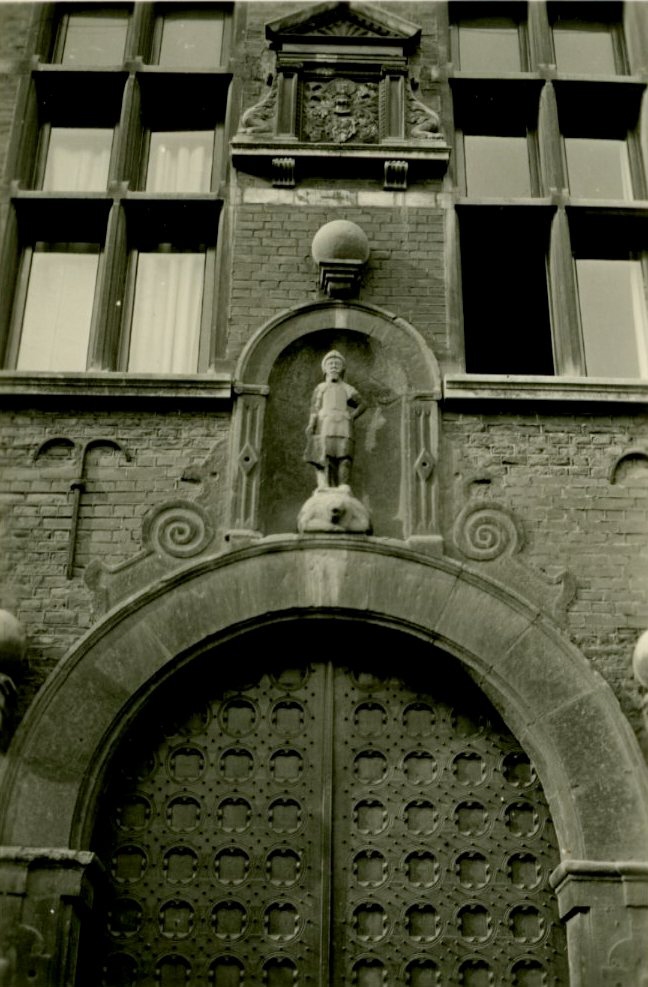 The original Schinkemenke from 1617 in a niche at the rear of the town hall. (Photo: Venlo municipal archive)